CHILDREN DEVELOPMENT PROGRAM(CDP)
---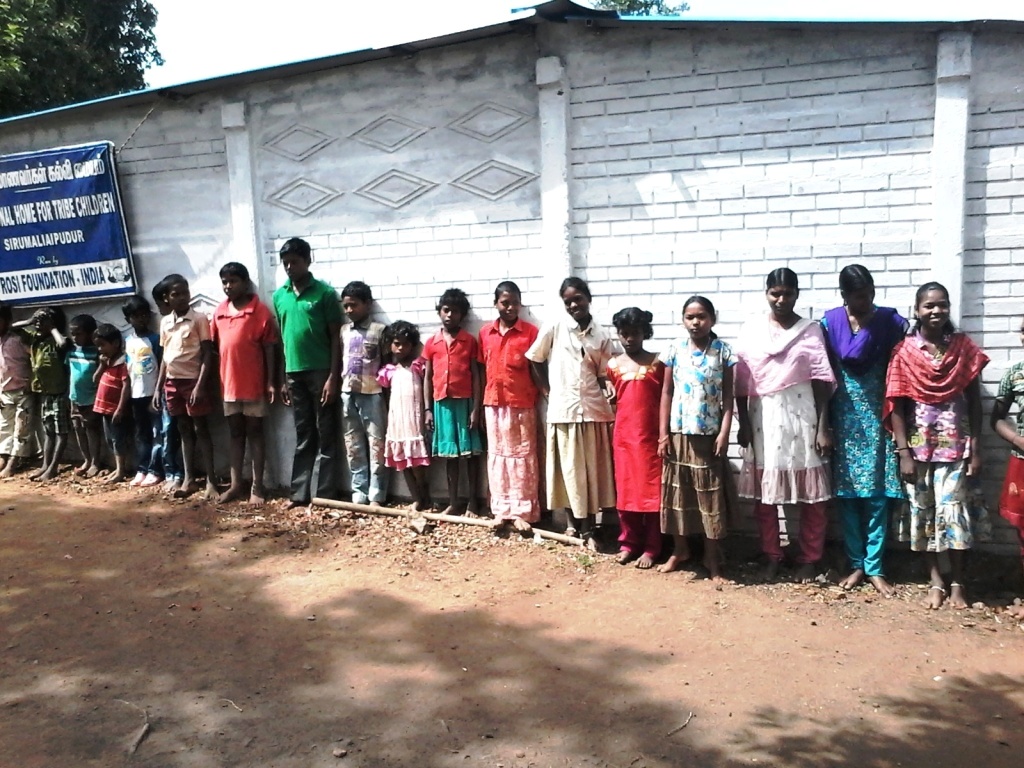 EDUCATIONAL HOME FOR TRIBE CHILDREN
---
RCH Training for adolescent Girls
The girls and women of salt pans workers, Tribe, Gypsy and rural poor are getting Health training and freeing from RTI/STD, Anemia, hygienic and sanitation problem, earlier marriage, unsafe sex, undesirable pregnancy and unsafe abortion. In their family's extreme poverty, bondage and cultural backwardness, the girls are affecting severely by health, education, earlier marriage, sex abuse, lack of sanitation and hygienic and mental aspects.
Earlier marriage, unsafe sex, low health and sanitation, affection by STD/RTI, risk in HIV/AIDS, undesired pregnancy and unsafe abortion, anemia and no hygienic existed among the adolescents' girls due to the lack of knowledge, cultural backwardness, superstition, food & nutrias deficiency and parents care lacking ROSI has given RCH training to 10500 girls and women on cleaning hands, personnel hygienic when menses and napkin using, anemia prevention, safe sex, earlier marriage and its affection, RT/STD. HIV/AIDS, etc. This training is still on going to other girls and women.
Now the trained girls are with personnel hygienic, free of anemia, using napkin, washing hands and body properly, taking tablets and treatment for STD/RTI, etc. they are free of the risk of diseases. They are following personnel hygienic, anemia prevention, stopping earlier marriage and knowledge on sex. The families members are also following the hands cleaning, personnel hygienic, realizing of earlier marriage and affection, abuses of the girls when parents' absence, etc..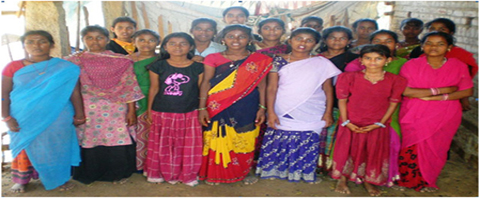 This one of beneficiaries group in RCH belong to GYPSY
---
CRECHE CENTRE FOR CHILDREN


ROSI's special schools' tribe children in Pudur (1st picture) and in Ponnuruvi (2nd picture) with our staff team
Tribe people are living in remote of Sirumalai Hills (Tholukadu, Thalakarai, Velampannai, Kannadiparai, Paliyankadu and Kodairoad area), Dindigul district Tamilnadu. The areas are inaccessible because of no roads and wild animals. No school/crèche within 14 km radius. They do not have the means to provide even one meal a day to their family. They hunt and eat roots for survival. The children were starving and had no access to food, education or health care.
---
EDUCATIONAL MATERIAL SUPPORT PROGRAMME
This programme is ongoing in that 3000 children of widows and poor. 1000 children with HIV/AIDS or disabled or children of PLWHA parents. In the burden of life and so many exploitation on widows/destitute women life with children exist after their husband left. So the children education is under risk due to poverty and needs of the children's earning.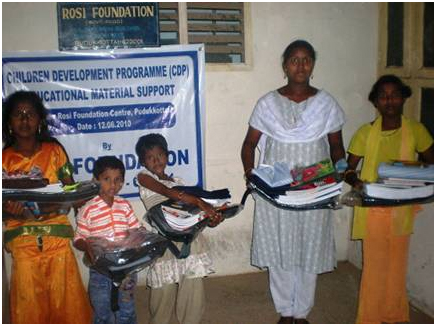 ---
Similarly the children of HIV/AIDS parents are under risk and problems. In other cases, few of them (children) are with PLWHA and studying with poverty and needs of health support. So, ROSI FOUNDATION is supporting the widows/destitute children and PLWHA's children for their education materials and other educational needs. Further children with HIV/AIDS are supported for education materials, health and nutrias, cloth, etc.

SKILL TRAINING ON COMPUTER
Dalit girls belonging to very poor family, completed HSC but they could not continue higher education due to the poverty. Their families are under poverty line because the family is surviving on meagre earnings of the parents by agricultural coolie work. They requested to be enrolled in computer training on DCA (Diploma in computer application). We offered the support to her in a computer centre. The full amount of fee of the course has been paid. They are encouraged on employment and self employment after the training completed successfully.

TAILORING TRAINING :The poor girl children of Pudukkottai district, Nagapattinam District and Sivagangai district in Tamilnadu are mostly school dropouts. Most of them engaged in labour work in quarries, bricks kilns, gem cutting, loading and unloading (lorry), salt and fish processing. The laborious work is affecting them physically and stealing their childhood. Few of them are become into sex trade victims. The girls are underwent the skill training on tailoring and garment making conducted.

ROSI Foundation is supporting the trainees' women for employment and self employment after completion of the training They are completing the training with in the six months and then they will start garments shop by Govt subsidy and loan that will be facilitated by ROSI foundation. By this support, the girls are averted from trafficking victims and become the free of abuse and exploitation toward economical independence.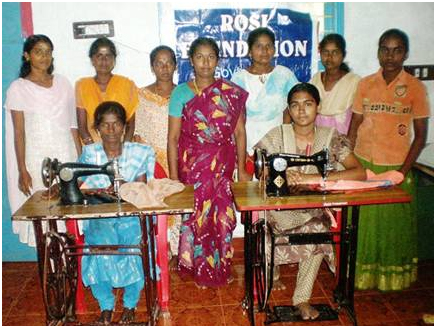 Child Rights Programme
---
Recent Issue
Now on 29.11.2010, human rights violence was happened on the tribe by non-tribe group in that one girl (16) was raped and five families were hurt and sent in to caves from their habituating area. ROSI has taken steps directly to register case and arrest the offenders by pressuring the Govt functionaries. 376, 450, 323, 324, 506(II) section under IPC and 3(i)(xii) SC/ST atrocities prevention act of 1989 were registered. Four persons were arrested and the tribe people are to be rehabilitated by us after relief provided. Now they are in our old age home.
One of the affected family after relief of food, cloth, medicine, etc provided by ROSI in that the left one is mother, next is her sister, the third one is the rape victim (Ms.Pusba), the right side man is her father, the next one is her uncle and another one male is her brother.
The case and FIR detailsin that the affection details, section under IPC for rape and gang attack. Further atrocities of SC/ST act was added.
---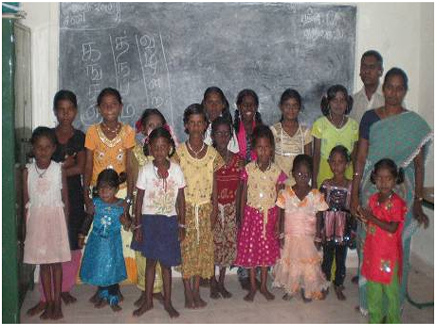 Coaching centres are being run in Vedaraniyam project area in two villages.
The children and teachers are there in the photos.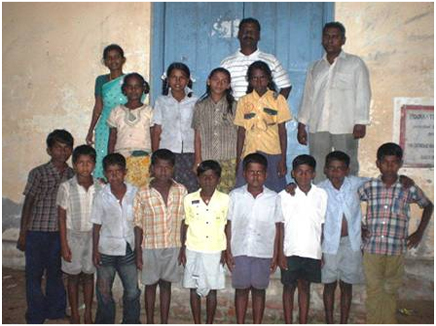 Another one coaching centre
COACHING CENTRE:
32 tribe children are under coaching in the school syllabus at Kudiraiyaru Dam that they are studying from 3rd – 8th std. In foot hills and interior area, their education and development is very difficult. Two teachers are coaching to the children daily at evening time and in holidays, the coaching takes at day times.